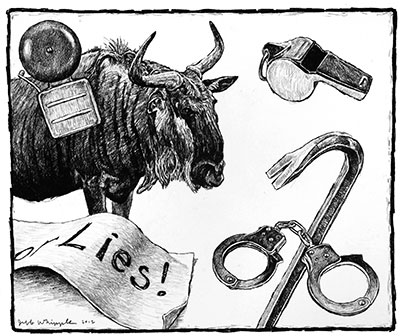 Auditions for DIORAMA, written and directed by Jeff Whipple


DIORAMA is an award-winning play about the behind-the-scenes workers at a natural history museum. It will be presented at Museum of Science and History (MOSH), Jacksonville. (A natural history museum!)


Six Performances: Tuesdays, Wednesdays, Thursdays, March 21, 22, 23 and 28, 29, 30

SEEKING: 3 females, 3 males, range 23 – 55ish (Details below)


We are also seeking a stage manager a set designer. (Note that this set will be very interesting as it will mimic a museum diorama.)


AUDITION DATE:

Sunday, January 22, starting at 4 p.m.


WHERE:
MetaCusp Studios
2650 Rosselle Street
Jacksonville, Florida 32204
(It's the same parking lot as Bold City Brewery, across the street from the CoRK art studios. Rosselle is very near I-10 at the Stockton exit.)


PREPARE:
Auditions will be cold readings from the script. However, if you have a monologue or if you can loosely prepare a 1- 2 minute story about something that happened to you or that you observed, it could give us more range to consider.

A headshot and resume would be appreciated.

SYNOPSIS

DIORAMA is a contemporary drama with plenty of humor. The timely story is about how career dreams must adapt or be lost in the tidal wave of new technologies and (de)evolving cultural appreciation.

The preparators who maintain the displays in a small natural history museum find their careers threatened when the administration seeks to lower costs by outsourcing labor, and raise attendance by replacing their beloved hand-built dioramas with new digital media. The changes could mean the older workers would not only lose a way of life but they would be facing a financial disaster. They're too young to retire, too old and outdated to be hired at another museum, and they have no practical skills outside of museum work. A love triangle exists between their supervisor and two of the younger preparators and that causes additional stress as they gradually discover the plans of the administration. The love triangle reaches a flash point at the same time the preparators decide they must do something shocking to stop the changes to the museum.

PLAY HISTORY


DIORAMA won the 2013 "Breaking New Ground" playwriting competition at Stageworks Theatre in Tampa, Florida. The award included work with a Chicago Dramatist's dramaturge and a fully staged reading at Stageworks Theatre. Angela Bond directed a terrific cast. Audience response was very positive and the play has been extensively rewritten since then.


In 2012 an earlier version was selected to be presented in three staged readings at the "Page to Stage Series", Elgin Cultural Arts Commission, Elgin, Illinois. Audience response was very positive and that helped inform the rewrite that won the award noted above.


JEFF WHIPPLE BIO


Jeff Whipple has had 19 play productions and won several playwriting awards including five Florida statewide playwriting competitions. He directed several of his plays in Chicago and Florida theaters. His 84 solo-artist exhibitions include shows at the Tampa Museum of Art, the Museum of Art, DeLand, and the Boca Raton Museum of Art. His art has been in dozens of group exhibitions across the USA and has received 52 top awards in competitions. Jeff has won six state arts council individual artist fellowships: Two from Illinois and four from Florida. One of the Florida fellowships (1996) was for playwriting and the others were for visual art. Jeff has taught at several colleges and currently teaches at the University of North Florida.


www.jeffwhipple.com


CHARACTERS


This is an ensemble piece where every character is fully developed and has an integral role in the story.


LAURA – 22
Laura is a recent college graduate who had been a student intern at the museum until she was hired fulltime. She had plans to go to graduate school but postponed them partially because she started a relationship with her co-worker, Colin, but mostly because she loves the museum and the other workers. She's very smart but a little naïve about life. Laura is full of energy and idealism and has a hardwired positive attitude. She seeks wisdom from the older preparators and often shows her wild and quirky imagination.


COLIN – 30ish
After earning his MFA in Installation Art, Colin began working in the museum to maintain the dioramas. His mentor and father-like figure is Dale who trained him. Colin is quiet and reserved but when he speaks, his confidence is very clear. He never planned on being at the museum long and assumed he'd leave for his career as an artist. But several years later it's apparent that his original dreams are becoming eroded. His longtime lover, Whitney, recently broke up their relationship and that also messes with his head. They're still "friends" and as coworkers, they must be "friendly" even after Whitney was promoted to be his supervisor. In an absurd rebound, Colin started dating Laura, the former intern, which causes understandable tension with Whitney. His love for Whitney is obvious and it's possible that he may just be using Laura.


DALE – 50 to 65
With more than thirty years at the museum, Dale is the last person who actually worked with the long-gone artisans who built the amazing dioramas that are now ancient artifacts in themselves. He was taught the "old-school" ways of hand-building exhibits and worked very hard to develop the skillsets that he is starting to realize are never going to be needed again. Dale is the boss of the preparator staff but he is completely charming and never "bossy". He commands the room but is not a dictator. Respected and wise, he often speaks philosophically of the history that surrounds them. He knows everything about the museum. It's his life and he has no family outside. He's defensive of the original museum character and gets angry at any mention of changes. He clearly enjoys the company of the other workers but beneath his veneer he is very concerned that his future will be stolen from him.


SOPHIE – 45 to 60
Sophie has a Ph.D. in curating museum artifacts and her decades of work and world experience brings a confidence to her voice. She's cynical about the cultural ignorance in the world including her museum administrators but she will get along to get along until she can retire. When she was a child she fell in love with natural history museums and that's still evident. She's disillusioned and angry about the changes in the role of museums in society. The new changes make her want to quit but she has no marketable job skills outside of museums. She's longtime divorced, her daughter is grown and moved away. Her father has Alzheimer's and she is his caretaker while he's dying. Sophie is strong-willed but she's at a point where she'd rather just take it easy.


MIKE – 35ish to 50ish
Mike has a lot of experience in museums but his biggest talent is avoiding work. He is chronically addicted to cigarettes and caffeine and that shows in his neurotic and agitated personality. He hates authority and fights any rules, especially the ones about not smoking. He spontaneously sings Blues-style songs that he makes up about his job. Nearly everything he says is drenched in cynicism but there is no mistaking his genuine love for the museum. He also loves his mother and is her caretaker while she's dying.


WHITNEY – 30ish
Whitney is the Assistant Director and soon will become the Executive Director. She has a degree in museum management and was assigned to work as a preparator to gain hands-on experience before being promoted to be the staff's supervisor. She's smart, funny, cheerful, and a natural leader. She shows the crew total confidence but when she's alone with Colin she knows it's safe to show him her vulnerable side. And that side is painfully vulnerable as she is wracked with self-doubt. She became close friends with the preparators but now that she's their supervisor it's challenging to deliver demanding rules to them. She is still in "transition" from her relationship with Colin, which she broke off a few months earlier. She loves him very much but her career would be jeopardized if they continued as a couple. She's becoming overwhelmed by the new job duties and the loss of Colin's close support, and of course, she's also totally annoyed by his affair with Laura.


For questions or more info: auditions@metacusp.com


If you're unable to come during the listed times, please email and ask for an appointment.